About us
1880x970 px
The story of Westone Audio
About 40 years ago, Westone Audio started making custom-made earpieces and significantly perfecting designs. Driven by a passion for music and performance, Westone Audio created the first stage monitors. In the 1980s, balanced armature drivers were developed in custom-made earpieces for musicians. These advances led to the first custom-made in-ear monitors.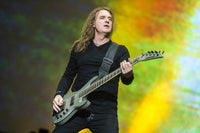 One of my most memorable Westone experiences was during a show on stage at the O2 arena in London when the perfect mix transported me to the middle of the arena with the band and audience as one. Show after show Westone provides me a consistent & remarkable in-ear audio experience that makes my performances become effortless and the shows become legendary for the fans!
Read more
The products
In the two decades following the first in-ear monitors, many collaborations and innovations followed, eventually resulting in the Universal Fit and Custom Fit earphones launched in 2002. Soon after, Westone Audio began offering the new product lines, making high fidelity listening more accessible. Above all, the mission is to create the most advanced listening experience for musicians and enthusiasts alike.

Because of this, new and revolutionary product developments are underway. This continues the legacy of "industry firsts" since the acquisition by Lucid Audio in 2020. With a new state-of-the-art customs lab and an influx of resources, Westone Audio will continue to lead and evolve the universal and custom monitor industries.
About Westone Audio
Westone Audio has long been a pioneer, particularly in the field of high-quality in-ear solutions. Over time, Westone Audio has represented several artists. That's how it started and that's how it continues. From Garage Jam Bands to international superstars, Westone Audio prides itself on delivering high-quality sound to the people who need it most.

Moreover, Westone Audio has a proven track record of leadership in the audio industry through a rich history of uniquely focused innovation and decades of shared knowledge with previous hearing aid companies. As a result, the company has further strengthened its brand and core capabilities, now as Lucid Audio Company.